A BIG Update At Haroldphillips.net (Including A Store!)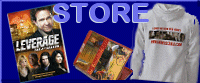 Just a quick note to let you know I've added a bunch of new content to http://www.haroldphillips.net/ :
>> The Home Page has been updated with all the latest info, of course...
>> My local Home Improvement Show commercial has been posted in the Video section. I also posted a clip (finally) from Crackin' The Code - those of you who haven't seen the movie yet can finally see the much talked about "blow up scene."
>> The Photo Section has new photos in the Production and Behind-The-Scenes areas from Owl and the Pussycat and Series II of Animus Cross
>> And, perhaps the biggest addition to the site is the new Store section. Now, I know what you're thinking - "Oh boy, here he goes 'selling out' again..." This "store" isn't about me making money, though. Sure, I'll admit I get a small referral bonus from a couple of the links on the Store page; the main reason for the Store, though, is to provide a "one-stop-shop" for my various projects.
Several of the films and series I've done over the past couple years sell DVD's and merchandise online. I hear from people all the time, asking how they can find this merchandise - rather than respond each time with a handful of links, I figured it would be easier to put a page on the site that collects those links in one spot.
So, if you've been waiting to see The Bicyclists or Walter Ate A Peanut... or you want an official Animus Cross sweat shirt or Lady Wasteland hat... you just have to visit the Store section on http://www.haroldphillips.net/. It's all right there.
Hope you're all doing well...
-Harold
Labels: Animus Cross, buy online, DVD, Lady Wasteland, Merchandise, Store, T-Shirt, The Bicyclists, Walter Ate A Peanut