Happy Easter Everyone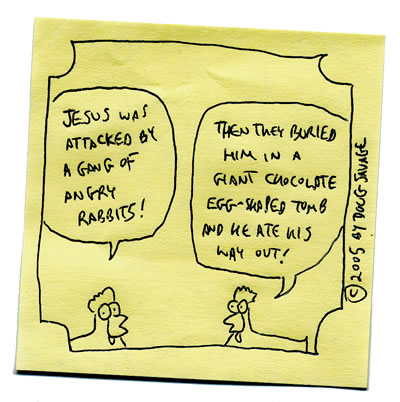 I knew if I searched the web long enough I'd find something irreverent enough without being "burn-down-the-Danish-Embassy" offensive to commemorate this weird holiday.
I mean, think about it... Jessus + Ressurrection = Chocolate bunnies? That's just weird, man.
Anyway, hope your Easter bonnet fit right and you found lots of colored eggs on your breakfast plate (pssst! I know you like them, Sam-I-Am, but I'd pass on the green eggs and ham).
We closed In The Matter of J. Robert Oppenheimer last night. This is one of the rare shows I've been a part of where the last two weekends of the run were entirely sold out. Of course, in a 26 seat house that's not a TITANIC feat... but it still made us feel pretty nice.
I didn't get paid much by Northwest Classical Theatre Company for this show, but I have to say... I'd work with them again in a heartbeat. They took very good care of us actors. Rather than being treated like just another "resource," as so many other theatre companies seem to consider the actors, NWCTC treated us like professionals. We were given free range to work within our parts and keep growing and changing them. We were trusted to arrive on time (well, all but one of us), we had a full range of snacks and food from the kitchen (including beer), we had pizza on opening, midway through the run, and on closing... and they laundered our shirts every week.
This probably doesn't sound like much, but it's one of those little things that really endears a company to you. A lot of companies make it the actor's resposibility to take their shirts home and wash them. Some companies will wash shirts and hang them on the their hangers to dry an hour before show time. NWCTC (and, specifically, Bebe Walton) actually took all our shirts to the cleaners every week. We arrived to find them clean, starched and pressed before each Thursday show. That's a little touch of class that you can't help but notice.
So, yeah, I'd work with NWCTC again. They treat you right, even if you don't get rich off their pay checks.
In other news, our pug dog Baby doesn't want to jump up on the bed or any other piece of furniture. We're really hoping that her back legs aren't starting to give out on her.
Ok, great pate' but I gotta motor if I'm gonna make that funeral. Actually, Trish and I are going to a much more festive occasion: her brother Bill and his wife Karen invited us down to their house in Salem for Easter Brunch. So, we gotta get on the road... Hope you all have a happy Easter!
-Harold