Lady Wasteland Episode 2 is Up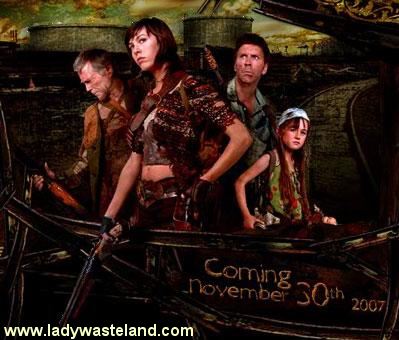 Hey folks
I got a little surprise this morning... I knew that episode two of Lady Wasteland was due to be posted this morning (new episodes in the pilot run get posted every Friday morning for the next five weeks).
When I loaded the page, though, I was surprised to find Henry and Samantha's next episode, instead of the episode I expected to come next in the series. So, you've got another chance to see me in the post-apocolyptic wasteland... this time not tied up and being harrassed by Richard Topping and his minion (though Richard's running a little short on minions right now... he's gonna have to work on that...)
So pop on by http://www.ladywasteland.com and check out the new action-packed episode! You can also find the second episode on the Lady Wasteland MySpace site. Be sure to contact the filmmakers and let them know what you think!

In other news, Trish and I have murder mystery shows this weekend; I'm doing a private show at a home in Portland's West Hills for Wild Bills tonight while Trish does a show on the Mt. Hood Rail Road, then tomorrow night we both have a Wild Bills show at the Portland Golf Club. Ah, a life in the theatre... it'll take you places! You'll just have to come in through the service entrance :)

Hope you're all doing well...



-Harold