T Minus 20 Days - The Preparations Begin...
Well, no, "the preparations" have been ongoing for quite a while now. This is just the first chance I've had to post anything of substance about our

pre

-Europe break life. We're currently 20 days away from getting on that plane, and I

figured

I'd bring you all up to speed on what's been going on.
The Itinerary for our little jaunt is still being finalized... Which is a little nerve wracking, to be honest... like I say, 21 days!!
We know where we're going (Ireland, Germany, Greece and Italy), how we're getting there (thank you Ryan Air!), and when we'll be there... but there's been some problems with the

accommodations

. Our travel agent was having a hard time connecting with the hotel we were planning to stay at in Germany... they finally got back to her today. We still haven't heard back from the bed and breakfast we want to stay at in Italy. If they don't get back to us tomorrow, we're going to have to look at other options... which isn't exactly where we want to be at this point.
Sigh...once everything is finalized I'll post all the details. I just hope I get to do it soon!
This past weekend I participated in the 48 Hour Film Festival... I've known lots of people who've been on 48 Hour teams over the past couple of years, and figured it would be an experience.
Man, was it an experience.
For those of you who don't know how this works, the 48 Hour Film Festival is sort of an "Iron Man" competition for filmmakers. The teams have 48 hours to write, shoot, and edit and complete an entire short film. To make matters more interesting, the 48 Hour Film Committee selects the genre for the team's film, and gives them a prop, character, and line of dialogue that must appear in the film.
The competition started at 7:00 PM on Friday. Our director, Scott

Cummins

, and one of the writers went to the opening ceremony at Portland's Jupiter Hotel while the rest of the team gathered at the Kennedy School, waiting to hear what the genre and other details were going to be. Showed up at about 7:30 and announced that we were to produce a Superhero film, which had to include a

balloon

, a character named Roy or Rachel

Schwarz

(a quality control expert), and the line "Do you smell what I smell?"
Whoo

... a couple of hours passed at the Kennedy School while we brainstormed ideas for the script. Then well all broke up so Scott and the writers could actually put together a script. The actors were told that call time would be 7:30am - but we didn't know as yet where our set was going to be (Scott had reserved three locations; a night club, a house, and an office. It would be one of those three). I went to bed with the cell phone by my pillow and my alarm clock set.
5:00am Saturday rolled around and I was up like a shot. Scott had left me a message
saying that the shoot was going to start at the night club. I checked my email and, sure enough, there was a script waiting there called "Secret Identity Crisis." I printed it off and read through it as I sipped my morning coffee, then hit the road.
Of course, even the most meticulously planned shoot has several things that can go awry, and when you've only got 48 hours to do an entire film, the pressure's on. The first challenge we encountered was the location - the owner of the nightclub didn't show up to let us in. Scott quickly changed gears and moved us up to Portland's South Park Blocks for the big superhero battle between "Solar Man" and "Ice

Meister

." As the crew was setting up shots (and racing the rapidly rising sun), Scott handed out the roles to the cast.
No superhero part for me... I got one of the "Innocent Bystander" parts. I'll have a moment in the completed film where

Solarman

saves my friend and I from an ice blast.
So... my co-innocent bystander and I waited while

Solarman

and

Icemaster

battled it out. By 11:30 Scott and the crew were ready to shoot our part. It took about an hour to shoot what will end up being 15 seconds in the final product. Once we were done, we moved to the (now open) nightclub.
I changed clothes so I could be a nightclub patron for that scene... I was at the night club from about 12:30 to 5:30 shooting a scene between the two main characters. Once that scene was done I bid the crew adieu... I got off easy. They were there until at least 11 pm.
Sunday I kept an eye on my email and my cell phone in case Scott needed me to do any

ADR

(doubtful, since I only had one line). No call came, though, so I got to relax a bit on Sunday... which is more than I can say for the post-production crew who were busily cutting the film together and adding in special effects. I got an email from Scott at about 10 that evening saying that they couldn't get the film done in time for the 7:00pm deadline. They did get it completed in time to have it shown, however. So, "Secret Identity Crisis" won't be entered in the international competition, but it will be shown at the Hollywood Theater Thursday at 9:45 pm. Come on out and see the results of our craziness. I'll be there to see my one line, to be sure.
If you're coming, you might want to click here and buy advance tickets, though... with 14 teams in our group, the showing might very well sell out.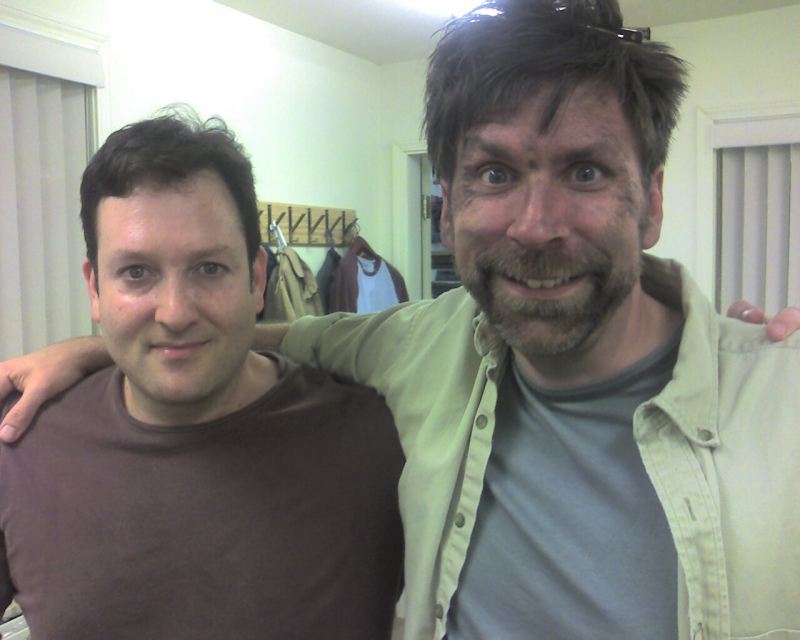 One of the great things about doing the 48 Hour Film Competition was getting to work with my buddy Kyle

Vahan

. Kyle and I have gotten to know each other a bit this past year by auditioning together, and shooting a commercial for Grover Electric and Plumbing Supply. That spot is now playing in Southwest Washington on the area's cable stations... keep an eye out if you live in Vancouver,

Chehalis

, Long View, etc... It's getting a lot of play during football games, so if you're a football fan keep an eye out for the "Soaking Wet" guy (Kyle) and the "Frizzed Guy" (Me... you'll understand when you see the spot).

In November the spot will start playing throughout the Northwest on the

Comcast's

Trailblazers Cable Network. So, if you're more of a basketball fan you'll be able to see it during Blazers games throughout the season.

Of course, many of you don't have cable, and even if you do you may not live in the Pacific Northwest. No worries... a copy of the spot is on its way to me from the producer. Once I get it I'll post it on http://www.haroldphillips.net/ in the Video section, and you'll get to see it there. I'm looking forward to seeing it myself... I don't live in Southwest Washington or watch football, so I haven't gotten a chance to see the commercial myself. I'm pretty sure it'll be a funny spot, though.


We're getting very close to shooting the first six episodes of Lady Wasteland, the new web series I'm in. Director/ Producer Mark

Roush

knows what a blabbermouth I am, especially here on the blog, so he's sworn me to secrecy on the details of the project. All I'm allowed to tell you about it is that it's a "Post-

Apocalyptic

action/adventure

webisode

series." I'm gonna break the rules, though, and tell you one more thing - it's gonna be AWESOME!!!

I've been rehearsing with Mark and the rest of the cast off-and-on over the past few weeks. The writing for each episode is really intense, and Mark runs a very tight ship - he knows exactly what he wants and communicates it to everyone involved without stomping on their input. The costumes rule, too; we shot some publicity photos a couple weeks ago (sorry, can't show any of them to you yet... once Mark gives the go-ahead, though, you'll see them), and it was amazing to put on those clothes.

Given the post-

apocalyptic

setting of the series, I've been spending a lot of time at the gym over the past couple of weeks, and biking on the non-gym days (it's a funny thing about survivors in a post-

apocalyptic

landscape; they generally don't look too well-fed :) ). It's been a great excuse to get back into shape (I've lost about six pounds in the past couple of weeks)... but man I'm looking forward to eating good when I get to Europe.

We start shooting next week, after a kick-off barbecue at Mark's house. The locations are all

accessable

from the Portland-area, so I should be able to make some posts during filming... I just don't know what I'll be able to post :)


I don't usually write about my day job as a computer consultant here on the blog... I figure that most of you are more interested in the theatrical portion of my life than what I do for

supplementary

income.

I often joke that my computer business is a "Beast or Famine" business... and lately it's been much more beast than famine. I've learned that the best way to ensure that you're going to need a vacation... Is to tell people you're going on vacation. EVERYONE seems to want me to do stuff for them before I head out for Europe... and not just little projects. Big projects like setting up servers and designing entire web sites. This is making life a bit tough around

Casa

De Trish and Harold... it seems that every waking moment is spent in front of my computer or at someone

else's

office. Add the time constraints of next week's shoot schedule and the fact that I've got to pack for Europe... some time... and I'm really feeling like that guy in the photo to the left. I'm hoping that as I put out fires in one area more aren't going to crop up in another, but that's the problem with being "Mr Solve-it -" when problems crop up people expect you to jump to it and fix them.

Trish has been busy in these days leading up to our departure as well... while I'm spending every day on the road going from office to office, she's been at home supervising doing some pretty major renovation. Earlier this month Zane Palmer, an actor and contractor here in Portland, rebuilt our back fence and built a deck in our back yard. Trish has spent the past couple of weeks transforming our front yard with the help of our friends Tall Matt, Static and Jackson; she's dug up a large portion in front of our bedroom window and removed a lot of underbrush. She's also laid down new topsoil and bark dust along the driveway and the walk-way leading up to our front door. I hardly recognize the place.
As I write this she's working with people from 1-800-Got-Junk on one hand to get rid of the massive amounts of debris that have piled up, and Hedgehog Tree Service on the other hand, getting some of the trees that have overgrown our new fence trimmed back. Incidentally, I'd highly recommend these two companies... they've always treated us great, and they're very affordable.
She's not done, either... she's got plans for the back yard as well. Once

everything's

done we'll try to post some before-and-after photos.

Needless to say, there's been precious little time for blogging. It'll get better... somewhere around September 4

th

when I'm getting on that plane to Europe... :) For now, though, I'd better assume my role as Atlas and get that globe back on my shoulder. I'll try to post more when I can...

Hope you're all doing well...



-Harold