Dead Critics, A New DVD, and Other Bits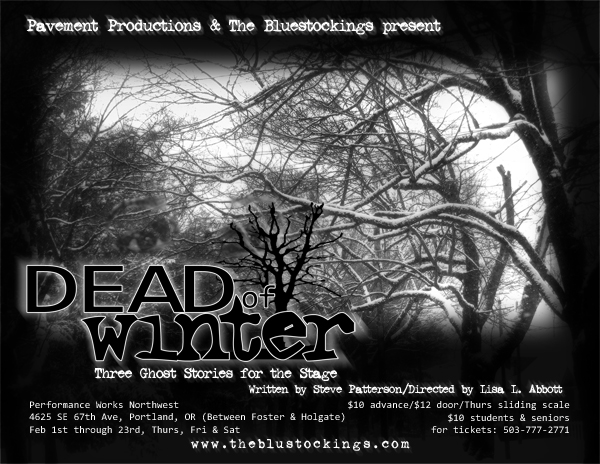 Hey folks
It's our first night back performing Dead of Winter after our four days off... the house is small, but it's good to be back in the groove. Thankfully, the kind folks who run Performance Works Northwest were good enough to share their WIFI key with me, so I can check email and blog when I'm not on stage (lets hear it for the 21st century, huh?).
The show got a good review on Followspot, the Portland-area theater blog, as well as a very kind comment about our inaugural preview performance. We're hoping that the audiences will continue to grow as we get further into the run... though Trish and I were a little dismayed when we opened up this week's Willamette Week to find that 20 shows are up and currently running!! That's a heck of a lot of competition!
So, if you're in Portland, do stop in and see us, and spread the word!
A couple other morsels to share with you while I wait for my scene change...
>> You might remember that back in August I appeared in a film that was part of the 48 Hour Film Competition called Secret Identity Crisis. The genre assigned to us was "Super Hero," and our writing and directing team came up with a really good take on the form... a very unexpected take! Scott Cummins, our director, wasn't able to get the film finished in time for the competition's deadline (missed it by that much!), but it was a real standout among the films that were shown as part of our "group."
I got a Christmas present from Scott Cummins in the mail - a completely packaged, re-cut version of the film (he tightened it up quite a bit from the version he frantically cut together for the competition). The DVD has both versions, actually, as well as behind the scenes featurettes, a making-of documentary... it's kind of funny when you consider it's a 7 1/2 minute film shot over the course of about 20 hours.
Anyway, Scott is now offering the DVD on his web site at http://www.riverscapepictures.com. For $10 you can have the film that was the talk of 2007's 48 Hour Competition... or would have been if it had been finished on time :) Don't buy it because you expect to see a lot of me, though... I appear briefly at the beginning of the film (my chacter's name was "Innocent Bystander #2..." that'll give you an idea of how much screen time I have); buy it because it'll be good for a laugh (and trust me, it will be).
>> Bad news for Australian Harold Phillips... or, rather, for the bank he held up and the police officer whose arm he broke! We Harold Phillipses are gonna start getting a reputation unless something is done! Thank you Google News Alerts for keeping me informed of my international doppelgangers' infamy!
>> Finally, be kind and forward this link to "that special someone" in your address book who is quick to hit the "forward-to-all" button whenever s/he gets an email about a killer virus, a child abducted in Tennessee, Barak Obama's Muslim upbringing, or what have you... personally, I think all internet browsers should come with this page automatically bookmarked:
Snopes.com's 25 Hottest Urban Legends
We all know someone who will send "urgent emails" out to their entire address books about the "Life is Beautiful Virus," "Starbuck's Vendetta Against US Troops," or Aladdin telling kids to "Take Off Your Clothes" in Disney's movie. Do us ALL a favor and let that person know about http://www.snopes.com.... and before you forward that email claiming that Bill Gates will give you money, check it yourself, too!
The funny thing about this page, though, is how old some of the "Top 25" are... and they're STILL being circulated. Sigh...
Time to go change the set... hope you're all doing well!
-Harold