New Animus Cross Teaser For Series II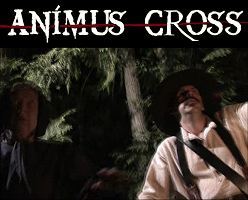 Hey everyone!

Sorry to be a little behind in the blogging department these days... it's been a pretty busy week! In fact, I'm running between appointments at the moment... but I've to an hour, so I figured I'd pause at the Southeast Grind (one of my "satellite offices" around the Portland metro area - the coffee's good and

so's

the free

wifi

) to update you on some Animus Cross news.
Amanda's also managed to (finally) get the series listed on

IMDB

- though it's a little light on info just at the moment. We'll be working on supplimenting the listing over the coming weeks.
It's an exciting time around the Animus Cross camp fire...
Mark your calendars! April 2010 is going to be a heck of a month!
Labels: Acting, Actors, Animus Cross, Web Series, Werewolf, Western