Emerging From My Blog Guilt Spiral
Howdy everybody! Long long LOOONG time no talk!

You know how sometimes house-keeping will get away from you? You'll get busy for a few days and not get around to cleaning up after yourself... then a few more days will go by, and you'll think "I'll get to that soon..." and before you know it the house is SO messy that you don't know where to start, and the task seems insurmountable... and it just keeps getting messier and messier and you start to feel depressed over how messy your house is, even though all you need to do is star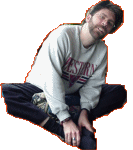 t cleaning, and then you stop washing, and you sit in the corner of your bedroom rocking back and forth facing the wall and babbling to yourself!

Well, "blogging" can be like that. You get busy, and things happen that you keep meaning to post but you never seem to get to it. Before you know it, you're a month behind with lots of tales to tell, and you don't know where to begin.
Well, the only way to get the house cleaned is to start working on one room and spread out to the rest. The only way to get back on track blog-wise is to start writing and try to get back to point zero. So, with apologies for the rather haphazard nature of the material to follow, here's what's been going on the past few weeks:
(Want to know the truly pathetic part? I wrote that intro two weeks ago and saved it as a draft, meaning to publish this post that night... GOD I suck!)
>>Theatre:
It's been a busy month indeed theatrically. Trish opened Fiddler on the Roof at Mt. Hood Community College last Friday. The run-up to opening wasn't exactly a ball of fun... long rehearsals that started at 3PM mixed with some dance moves that, with rehearsing them over-and-over again, injured her neck. She managed to keep her neck pain in check, however, and they've been enjoying big audiences throughout the run. There are just two performances left - tonight at 8 and tomorrow at 2pm.
I got a call a couple weeks ago from the director of In the Matter of J. Robert Oppenheimer at Northwest Classical Theatre Company. An actor who was cast in the show got another role at ART that forced him to drop out, and he recommended me to replace him (thanks Randy!). After a brief meeting with the director, I signed on to play David Tresell Griggs, one of the witnesses in the play (the play is a dramatization of a real event. In 1954 the Atomic Energy Commission decided to strip J. Robert Oppenheimer, father of the Atomic Bomb, of his security clearance because of his "left leaning" views). It's a small part, but a good play. I don't mind telling you, it's hard dialogue to learn (especially stepping into the role with only three weeks of rehearsal before we open). The already dry and scientific language of the board-of-review hearings was translated into German for the original version of the play, then re-translated into English for the version we're putting on.
The themes that are brought forth in the course of the hearings, though, are very familiar. How much personal liberty are you willing to give up in the name of security? Do your personal associations determine your loyalty to your country? Is there such a thing as disloyal thought? If you guys get a chance to see it, I think you'll find the ideas it contains very relevant to some of the things we're going through in the US today. We open on Thursday, May 16 and run through Friday, April 15. Come on a Thursday or a Sunday matinee, and I'll actually get a cut of what you pay at the box-office (that's how we're getting paid for this little endeavors).
Finally, some of you may have heard about a play called My Name Is Rachel Corrie. It's a one-woman show adapted from the diaries, emails, and other writings by an Olympia, WA peace activist who was crushed to death by an Israeli bulldozer while she was protesting the demolition of Palestinian homes. The play was a big hit in London (Directed by Alan Rickman, to boot!), and the New York Theatre Workshop had planned a production in the United States for later this month, but then pulled the play from its schedule (many presume that they were afraid of protests by pro-Israeli groups).
Well, local playwright Francesca Sanders and Trish are going to produce a reading of the play on Thursday, May 16 at the St. Francis of Assisi church in SE Portland. You can click here for a digital flyer, and here for a press release on the reading. It's totally free, so if you want to find out what the big bad New York Theatre is scared to produce, come on by next Thursday.
>>TV & Film:
My auditions have cooled off a little bit, but Trish is still a pretty hot commodity in the TV & Film world. She's been cast in a Providence Health System industrial (a training video for their employees... sorry, unless you work for Providence you'll probably never see it), and her Yard and Garden Show commercial was in pretty heavy rotation this past month on KPTV, our local FOX affiliate.
I'm still getting out there, however... I had an audition for an infomercial on Thursday, and in coming weeks I'll be auditioning for a couple of short experimental films. The films don't pay anything, but they'd be good resume credits, good experience in front of the camera, and good material to add to my hopefully-growing-promotional reel.
>>Personal Notes (sorry, Dave Koz, for swiping your radio show's title)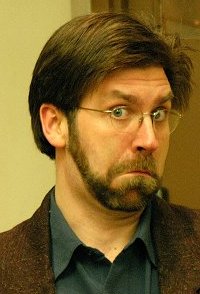 On a somewhat related note, you may remember a previous 'blog entry wherein I mentioned that I'm trying to get to the gym more often. I've totally surprised myself by managing to get out there at least three times a week... for the past month-and-a-half... and durned if it's not beginning to show. I've dropped about 10 pounds (not that I was horribly overweight to begin with), and really firmed up.
And I'm not the only one... between all the dancing that Trish has been doing in Fiddler on the Roof and a concerted effort on her part to eat better she's lost close to 20 pounds. We're dwindling away together :)
The work on my body has been coupled with a new hair style. I got a call from my agent Kaili about a month ago. She told me that she'd heard from some local casting directors that the hair style I've been using for about ten years wasn't really working for me, and that I had, in fact, not gotten a job or two because of it (Yeah, I know. That sounds shallow, but that's the business). The word was "Short short short." So, I went to my lovely hair stylist Nancy at Infusion Salon and she and her husband Dean cooked up a new look for me. It's still going through some refinements, and this photo isn't exactly a professional shot... but it kind of gives you an idea of the trans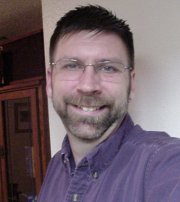 ition:
Yeah, so, it's pretty different. Suffice it to say, I'm still learning how to work with it. I got the thumbs-up from one of our local casting directors at the infomercial audition on Thursday, however, so it must bsomewhatat closer to what they're looking for. Of course, a fit body and a trendy hair style aren't going to get me the work... but there's so little in this business that's under one's control. Generally, whether you get the job or not depends not on how wonderful an actor you are, but what the director is looking for on a given day (and you NEVER have any idea what this... heck, half the time the directors don't have any idea what they're looking for until it walks in through the door). It's always nice to feel like there are some aspects that you can have an effect on. So, I'll keep hittin' the gym, and keep refining the hair. I guess new head shots are on the horizon soon... Mr. Carey will be getting a big chunk of money from me.
BUT WAIT! THERE'S MORE!!!
>>Work: I have been busier than... something really busy in a particularly silly context ("one legged man in an ass-kicking contest" comes to mind, but I've never really thought that someone like that would be "busy," per se... I mean, he'd be on the ground after the first kick, right? I mean... Oh never mind).
Aside from the usual running from office to office, fixing computer problems as they develop, I've been doing a lot of web site work. My friend James Lawrence, for instance, wanted a web site to promote his ministerial services to couples looking to get married. So, he and I worked together to create
The Manhattan Monk I'm very pleased to say that James' site has been a success since it's been up. He's gotten lots of visits, and with a little cross-promotion with the Bravo Wedding Guide he's already booked two weddings for this coming summer.
I've also set up a new site for Robert J. McGaughey, one of my lawyer clients, and I re-designed a site for Doggy Duty, a service that provides "dog boxes" (boxes with artificial turf for dogs that aren't fortunate enough to have a big yard and a doggie door so they can go do their "business" whenever they need to).
And there's still more!!
>>Real Estate
After a long discussion with our financial advisor (Andy Pollack - a GREAT financiaadvisoror, in case anyone out there's looking for one), we came to the conclusion that it was time to sell the duplex. Between the fact that Trish and my lives have been getting busier and busier (I think the past three pages of 'blog can attest to that) and the very good chance that Portland's housing market is going to cool off in the next year or so, the time seemed right.
So, we met with our friend David Meyers (a local actor who's also an EXCELLENT realtor - he brokered the original deal on the duplex as well as our purchase of our current house), got the place inspected so we won't have any unpleasant surprises when someone makes the offer, and put the place on the market. Outenantsts were understandably concerned, but we're doing our best to find a buyer who'll want to keep both units rented (that is, after all, how you make money in the landlord business - with rented units).
So, there's plenty of work to be done, but it's on the market. Hey, you wanna buy an investment property? Give David a call!
So....
Can you see why I haven't had many spare moments to keep the 'blog updated? Now that I've got all that out of my system, I'll hopefully get back into a more normal schedule. Hopefully.
Until I get too busy again... Anyway, Hope you're all doing well!
-Harold