A Few Items To Start The Week Off...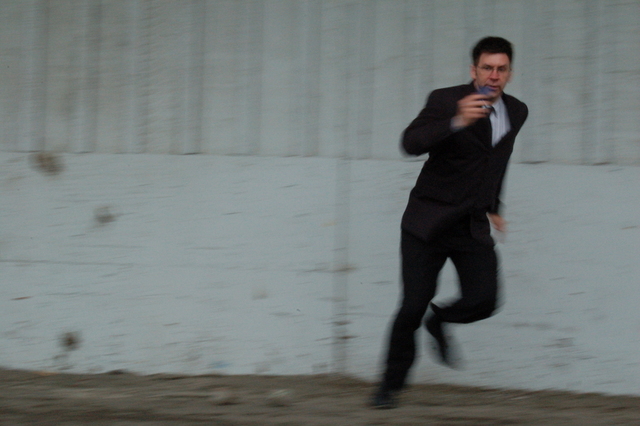 'Morning everyone.
Well, it's Monday and I'm on the run again (as usual)... the week ahead promises to be busy, so I'm taking a moment to collect my thoughts and clear out the memory banks. This is going to be one of those hodge-podge kind of posts... a little bit of everything.
>> First off, new content has been added to http://www.haroldphillips.net. I finally got around to posting two new video clips - one from the OEN videos I shot this spring and a clip from a motiviational video in the Answer to Absolutely Everything series. Slowly but surely I'm building up a critical mass of video samples that can be turned into an actual, like, professional reel.
>> Friday was my first rehearsal with the cast of Streetcar Named Desire at Clark College up in Vancouver. I'm choreographing the violence in the show. We didn't go through any choreography on Friday; rather, the evening was deveoted to a "workshop" session on stage combat principals and some basic moves that'll be used in the choreography. I was pretty happy with the session; the cast was very focused and attentive, and by the end of the evening we'd gone over "preparation, action, and reaction," falls, punches, and slaps.
I go back on Friday the 11th to start working the "real" choreography into the play. Ironically, I got invited to opening night of another production of Streetcar that night (this one at Artists Repertory Theater); but like the T-Shirt says... "I can't. I have rehearsal."
>> Sunday was "Zombie Bootcamp" at SilkTricky. In preparation for the shoot of The Outbreak, Chris Lund brought in movement specialist Ira Kartoum (did I spell that right, Ira?), make up artist Christina Kartoum, and a veritable zombie horde. Ira worked with our zombies on movement while Christina did makeup tests. We've got a great assortment of undead for this little project, and they're going to be one hell of an unholy mob to go up against. Wednesday is our first rehearsal at the location out in Damascus... and the shoot is coming up fast!
And that's what's happening in my world at the moment... this week's going to be pretty full, with rehearsal and performance of a Wild Bills Murder Mystery tonight and tomorrow night, Outbreak rehearsal Wednesday, and Streetcar rehearsal Friday. Gosh... maybe I'll get to sleep a little on Thursday and kick this cold that's been hanging on, huh?
Hope you're all doing well... have a good week!
-Harold