I'm Ready For Another Vacation!
Long time no talk... Trish and I realized a couple of days ago that it's been a full month now that we've been back in Portland from Maui... and since that time we've been running hard every waking hour.
It's been a long while since I filled you in on what's been going on in our lives. Blogging is an interesting thing... the more time that passes, the more you have to tell, and the harder it is to sit down and write because there's so much to relate. I got up early this morning, though, and have an hour or so to chat, so I figured I'd get you all caught up.
The Ghosts of Maui: In some ways Maui seems like a distant memory now... we had such a wonderful, relaxing time (and we've been pushing so hard since we got back) that the lingering ghost of the Hawaiian sun kissing our face is something we only notice when we pause to catch our breath and turn our minds back to those island days.
If I was good, I would have put together more day-by day travelogues for you, with

slideshows

and maps as I did in my last post. "Island time" got the better of me while I was there, though, and even though we snapped more than a few photos I never got around to recording the details of our remaining stay.
In a nutshell, every day we spent in Maui was wonderful.

Marnice

and Ash were exemplary hosts, letting us go at our own pace, providing us things to do with no pressure to do them. Some highlights of the last few days were
A trip to Kepaniwai Park, near the peak of Puu Kukui. Aside from the amazing scenery at the top of the volcano (that's where the photo above was taken), this park is beautiful in spirit. Its sole purpose is to pay homage to the different ethnicities that make up the island's population. It's broken up into sections for the Chinese, Japanese, Portuguese, and Koreans. Each section has a structure built in the traditional fashion of those peoples: a Japanese shrine with a koi pond, a Portuguese Farm house, a Korean pagoda... we were in awe.




A hike through a bamboo forest. I expected fight from Crouching Tiger Hidden Dragon to break out at any moment. One of the best things about this little nature walk was that it's a spot known only to the locals... we ran into a couple of people, but for the most part we had the trail to ourselves. All we heard was the wind rustling through the bamboo, the sound of the waterfalls, and our own footsteps.




A return to the "Little Beach" that included a little snorkeling for me. Only a little, unfortunately... I'm way too out of shape to swim that long... letting the waves carry me along while I watched the fish dart to and fro underneath, though, was truly magical.

The island had one more gift to give us as we prepared to leave. We'd had nothing but sun the week we were there, but as we packed up and headed for the airport (leaving some of our clothes there to make room in our suit cases for gifts from Maui for friends and family) the clouds began to gather. We said our goodbyes to Marnice and Ash, checked in, and stepped outside the terminal to have one last cigarette before heading to the gate... and the sky opened up.

Understand, Trish and I live in Oregon. We're used to rain. Not rain like this, though... a light sprinkle became a monsoon-like downpour in the space of five seconds, soaking us to the skin. By the time we'd reached the terminal again we looked like drowned rats, our clothes and hair dripping from the sheer volume of water. It took us all the way to Portland before we fully dried out again (which made for a very cold flight, let me tell you). It was one last little kiss the island gave us on the way out the door, and worth the chattering teeth.

Down With The Sickness: I had two days back in town before I had to turn around and leave again, this time for Roseburg, Oregon. Many of you know that Trish and I have an on-going gig with a couple of medical schools here in town; we act as "standardized patients" for the medical students from time-to-time. As part of the students' education (or, in some cases, as part of their final exams) we'll play patients with symptoms and complex health histories. The students' job is interview us and assess our "condition." Yeah, yeah... it's like that Seinfeld where Kramer and the little guy try to out-act each other with the diseases... well, not really, but that's where everyone's mind goes when I talk about this job.

Anyway... through my work with Oregon Health and Science University I got connected to the Oregon "Node" of the National Institute of Health's clinical drug trial program. Essentially, I do the same thing for them that I do for the other med schools, but my work with them is a lot more in-depth. The cases I portray are generally psychologically based and take a couple of days as opposed to five minutes per student.
This time around I was playing a heroin addict going in for treatment. My job was to go through the intake process for a drug trial at a clinic in

Roseburg

as the patient and give them feedback on the process. It was a pretty nice couple of days - the NIH put me up at a Holiday Inn, the folks down in

Roseburg

were very nice (and, I think, very receptive to my feedback), and I helped them fine-tune their process for when they start seeing real patients.
It's not Shakespeare, to be sure, but the job pays well and you get to keep your

improv

knives sharp. When you're in the exam room with a student, you never know what s/he is going to ask, or where s/he's going to go with an exam. The case summary the college provides gives some basic information, but there's a lot of thinking on one's feet involved with this kind of work... even when you're lying half-naked on a table :)
Flim

Flam for the Film Fan: I've been pretty consumed with film work since I got back in town.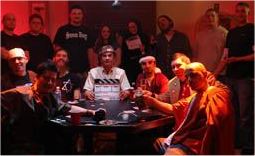 I found out before we took for Maui that I'd been cast in a short independent film called God Has No Religion. The film is centered around a poker game... with (clockwise around the table) Buddha, a college student named West, Moses, Jesus, Mohamed, L. Ron Hubbard and Confucius holding the cards. The film is sure to offend just about everyone, as these icons talk about how silly mortals are to fight over religion. Well, that won't offend people as much as the icons themselves drinking, smoking, getting stoned, and generally being "less-than-holy."
The film is also sure to kill my chances of working with Tom Cruise, John Travolta and Isaac Hayes, since I'm playing L. Ron Hubbard... and lets just say he's doesn't come off in the best light.
It was a blast to shoot, though. Writer/Director AJ Gordon had a firm idea of what he wanted from the film, and the crew worked smoothly and efficiently. The majority of the shoot day was spent... well, playing poker with the other actors. I did surprisingly well, too (no big shock, since there was no real money on the line). Definitely one of the lowest-stress sets I've ever been on. The film will premier at Portland's Hollywood Theatre in June.
Apparently I made something of an impact with the folks filming God Has No Religion... a couple days after we wrapped the film, I got an email from AJ asking if I'd play a part in another short that his Director of Photography, Nathan Smallwood, is filming later this month. Holy Rollers has a similar religious bent to it... but this time I'm a much more devout Christian. Really! For Real! I take in the holy word in a very... intimate way.
Ooooooh... I'm going to hell for sure after these two come out. In any case, we're shooting Holy Rollers next weekend. It should premier at the Hollywood the same time that God Has No Religion does.
Also premiering in June at the Hollywood is a short film that I'm shooting this weekend for Jerry

Makare

and Screaming Inside Films. The Yard is a labor drama with a very personal feel. It's about a group of workers who are locked out of their job site by management (

that'd

be me, the Management figure), and what happens next. I've really been looking forward to this one... Jerry and I have been talking about it for months, and I've seen about three drafts of the script so far.
There were a few issues leading up to this weekend's shoot... most notably the need to find a suitable location. Jerry had a couple lined up that pulled the plug at the last moment. We just got the word that he and the producers have secured a location for this weekend's shoot, though... so it's a go.
Finally,

pre

-production work is still on-going for From Kilimanjaro With Love, the feature that Trish and I will be working on in late March/ early April (she's playing a supporting role and I'm doing fight and stunt coordination). I've got the fights on paper for the moment... director Robert Bruce and I are going to visit the location for one of the largest fights on Tuesday, though. Once I see where the fight is going to be staged, all my plans may go out the window. That's why we're doing it early, though...
Going Commercial: My

Tricounty

Temp Control commercial is apparently still playing on local

Comcast

Cable stations here in Portland. People are telling me they've seen it on almost a weekly basis. If you haven't seen it, I've got it posted in the videos section of http://www.haroldphillips.net.
Going To The Dogs: You may remember from my last post that that damned beagle of ours, Buddy, escaped while we were in Maui. Thankfully we got he and Baby, our pug dog, back; a nice family up the road from us picked them up and, after a couple of days, contacted Multnomah County Animal Control. We'd gone online and put in a lost dog report from Hawaii (a very handy system!), so the county was able to put the hills together with Trish's brother Pete who was house-sitting for us.
Unfortunately there was a bit of drama involved with getting the dogs back home... as Pete was loading them into his car, Buddy's troublesome neck apparently got "tweaked," and he snapped at the teenage boy holding him. He caught the boy, Robert, in the lip. Robert had to be taken to the Emergency Room for stitches which, of course, we're paying for.
The Hills are a very nice family, though, and being dog people themselves, they understood. Thankfully our homeowners insurance will pay for Robert's ER bill, so everything came out ok (funny side-note: I went over to the Hills to get the bill for the ER visit, and the mother asked me what I do for a living. I told her I was an actor and her eyes got really wide. "Really?" she said, "My son wants to be an actor! Can you give him some advice?" The son she pointed to happened to be Robert, the guy who Buddy bit. So, I ended up sitting at their kitchen table talking to the guy my dog bit about auditions, agents, headshots and the like. The world works in strange ways...).
Anyway... Trish and I have been watching Buddy get older for a while. He's 11 years old now... in fact, he's getting close to 12. We'd always planned on getting a third dog and integrating it into the pack so that, when Buddy passes on, there will be a dog in the house to keep Baby (and us) company. This little episode brought that possibility up again... if Buddy hadn't made it back from his adventure, Baby would have been a very lonely little pug dog when we weren't around.
So, we began to search for a new dog to add to the family. Thankfully, http://www.petfinder.com has a number of rescued dogs who are looking for good homes (if you're looking for a new dog, I'd STRONGLY recommend using Pet Finder. It's a great service that puts shelter dogs up on the web). After a little searching we found a cute little black pug named Josie. Animal Aid of Portland was trying to place her with a new family, so we filled out their five page (!!) adoption application and put our hat in the ring.
Josie's foster mother gave Trish a call a couple days later, and after a while it became apparent that she wasn't the dog for us. It seems that she gets along fine with other dogs, but she'd really prefer to be the only dog in the household. Plus, she likes to go for really long hikes, and that's not really something that Trish and I do much of. Before she hung up, though, she asked if we'd be interested in looking at another pug named Amber. Amber was in her care for a while, but had been moved to another foster home.
Now, we'd seen Amber's listing on PetFinder, and we shied away from her a bit. She's a very cute little girl, but the medical care she was going to need raised some serious questions in our minds. The girl has hip displaysia, you see, and a breeder was continuing to breed her even after it was obvious it was doing her hips in.
The foster mom told us, though, that Amber has gotten much better, and has been taken off the medication she was on. As long as we kept her weight down she should be able to live a long and healthy life.
So, we made an appointment to go see Amber's new foster mom up in Vancouver last weekend... and were totally smitten. She's a very sweet girl who gets along just fine (even if her hips do move a little funny when she sits up and gets down). She's really skinny compared to Baby, but the vets have told her foster mother that she needs to stay that way for her hips and knees.
We've done the final paperwork to adopt her, and now we're just waiting on Animal Aid to set up a time to bring her over. Animal Aid is very careful about who they place their dogs with (and rightly so!); aside from the five page adoption questionnaire, they also require a home visit so they can be sure the adopter's house is right for the dog, a visit with the dogs already there (they got along great) and personal references (Thanks Walter, Beth, Lori and Kate for giving us the thumbs-up!).
We're really looking forward to having her here. It'll be an adjustment, having three dogs... but I think she's going to do just fine here. Now we just need to go out and buy a third bowl, dog bed, leash...
The Real (Estate) Deal: Finally, as if our lives weren't full enough, we've got a buyer for our duplex.
It was an odd turn of events... after keeping the duplex on the market for a year and getting very little interest, Trish and I had decided to let our listing expire and consult another realtor. After we'd met with a new realtor our old realtor David called us to say that an out-of-town investor had seen our expired listing and was interested in seeing the property.
We weren't going to look a gift-horse in the mouth... we met with the investor and his agent the next day, and after a couple of days they put an offer down.
We just had the inspection a couple days ago, so now we're waiting on their punch-list of items they want fixed before we close the deal... it's going to be a wild and wooly couple of weeks, since one of our tenants is moving out on March 15th and our closing date is April 2nd. Still... it feels good to see light at the end of the real estate tunnel.
_______________________________________________
So... that's why I haven't been posting over the past month. I've had a few thing going on... now that I've finally gotten all this out there, I should be able to get back to smaller, more regular posts. Time for me to get some real work done now... hope you're all doing well!
-Harold